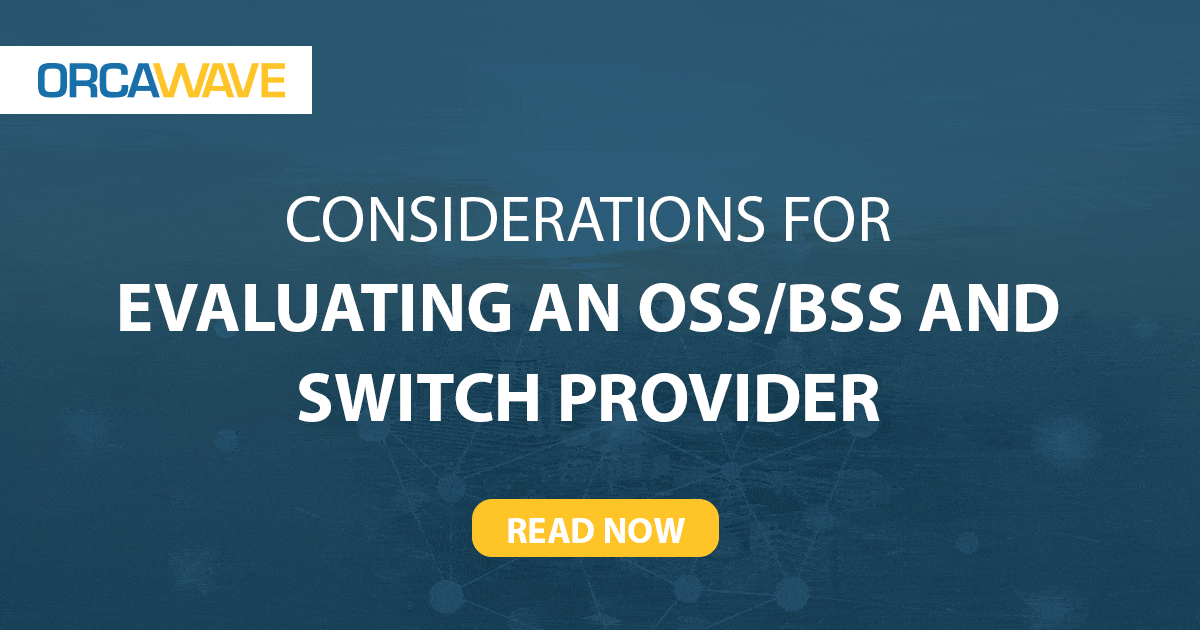 December 19, 2018
With something as business-critical as your OSS/BSS, or operations support system/business support system, it's important to understand the factors in finding the right solution for your unique business.
Is your switch at the end of its life? Are you introducing a new product that needs closer proximity (global POP, or point of presence) to your customers? Are you actively seeking a new solution for your switch as well as your OSS/BSS?
In this post, we'll review some important considerations as you determine the right OSS/BSS provider for you.
Experience matters
Being able to migrate new or current business logic without major business disruption is a significant concern of telecom teams, as they face the disruptive task of moving to new switch providers.  
An experienced transition team should be top of mind, as you address the need to replace or expand your current infrastructure.
Finding a company that can streamline the migration process ensures the transition is free of business impacting problems and knows the switching and OSS/BSS issues is critical.
Selection factors
What are the key factors to look for in finding that solution? Here are a few things you'll want in a potential solution and partner:
Experienced transition management team with global deployment experience

Requirements assessment at the beginning of the process to ensure key business features are available

Detailed project and migration management

Trial period availability to pretest call quality and confirm billing accuracy

Low OPEX fees so you only pay for what you need

Customer references with recent implementations
There is a fully integrated OSS/BSS Switch solution with an experienced team that provides an efficient implementation – less than one-month conversion, new fraud tools, powerful routing and rating engine, multi-currency billing platform, and vital analytics. Orca Wave now provides an integrated cloud-based service for both the switch and the OSS/BSS.
The migration process at Orca Wave is project managed by experienced team members who assess your specific requirements at the beginning of the project and set a process into motion to efficiently manage the transition.
This quarter alone, Orca Wave's standard implementation is averaging one month, from taking the order to cutting the old switch platform out of service. We are aware of the need to be flexible with the pricing structure, the OPEX fee allows you to pay for what you only need.
Orca Wave success stories  
Here are a couple use cases that are examples of the Orca Wave OSS/BSS and Switch platform service.
Carrier 1: A Global Carrier, headquartered in Asia, providing Internet Broadband, Long Distance International and Voice Over IP via mobile applications.
This carrier sells to Consumer, corporate, and wholesale market segments by offering end-to-end solutions. Their on-site Genband was quickly approaching EOL and needed to be replaced in short order.  
This carrier preferred a cloud solution for both the switch and the OSS/BSS platform and wished to continue with their current OSS/BSS provider Orca Wave. Fraud alerts and cost management was a priority to protect their valuable customers as well as the bottom line.  
Once this carrier made their decision to move with the Orca Wave switch and software platform, the system was installed and managing traffic in less than 24 calendar days.
Carrier 2:  A data provider and international global carrier with services throughout the Caribbean and the Americas that was quickly outgrowing their existing switch and OSS/BSS platform as well as experiencing a variety of QoS issues.
This carrier selected the Orca Wave OSS/BSS solution along with our hosted switch service to manage this growth curve. This company uses the platform for their calling as well as their international billing, rating, routing, Auto Loading of rate sheets and many analytic tools to defend themselves against fraud.  
The implementation was finished quickly, with operations beginning less than one month after the contract was signed with Orca Wave, allowing them to meet the end of year uptick in traffic. In addition to growth now being managed to meet future forecasts voice traffic, QoS improved as measured by PDD on key major routes.
Get started
Reduce your expenses and your risk, join the many Orca Wave customers that are implementing now!
Contact Sales@OrcaWave.net to schedule your demo and to discuss your unique needs in today's busy marketplace.